GOING GLOBAL EAST MEETS WEST - ARTICLES OF INTEREST
CURRENT ECONOMIC AND POLITICAL NEWS EVENTS: BRINGING OUR WORLD (EAST AND WEST) CLOSER TOGETHER TO FORM A GLOBAL SOCIETY ~ LOOK FOR GLOBAL CURRENCY NEWS AND UPDATES ON GLOBAL AND REGIONAL CURRENCIES: ASIAN, MIDDLE EAST, LATIN AMERICA, EMERGING MARKETS, ALONG WITH THE EURO AND THE U.S. DOLLAR ...
Thursday, May 23, 2013
23/05/2013
Nijaifi, Biden discuss political crisis
Baghdad – Speaker of Parliament, Usama al-Nijaifi, discussed in a telephone call, with US Vice President, Joe Biden, political developments in Iraq and current crisis.
A statement to the press issued on Thursday, May 23, by Parliament's Media Bureau, said that Nijaife received a phone call from US Vice President, Joe Biden, discussing Iraq's political situation and current crisis.
It added that Biden expressed concern over increase in violence and extremism in Iraq and Syria, pointing out the necessity for finding Iraqi solutions to calm the situation.
For his part, Nijaifi stressed the necessity to respect partnership and refrain from using the army in suppressing peaceful demonstrations, and to encounter the militias that have recently actively emerged.
He demanded the government to start a dialogue with the protestors and accept peaceful initiatives, as well as replace the Army in the cities with local police force.
source
23/05/2013
Nechirvan Barzani: Region's Government still calling for dialogue to solve disagreements
Erbil - Prime Minister of Kurdistan Region, Nechirvan Barzani, asserted that his government was and still call for solving all issues and disagreements through dialogue, recent visit of the Region's Government delegation to Baghdad is based on the intention.
A statement issued on Thursday, May 23, by the Region's Government quoted Nechirvan Barzani during his meeting with the Ambassador of Brazil to Iraq, Anwar Nahas, saying that, "Our door are always open for dialogue, negotiations and solving problems through dialogue."
It added that the two discussed relations between Kurdistan Region and Brazil and means to consolidate them in the interest of both sides; they also discussed preparations for opening Brazil's Honorary Consulate in Erbil.
Ambassador Nahas announced that opening his country's Honorary Consulate in Kurdistan Region will be a start for opening Brazil's General Consulate in the Region to expand sphere of bilateral relations and issue visas.
source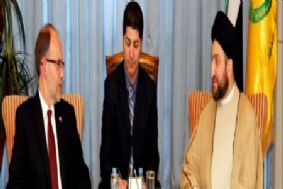 23/05/2013
Hakeem affirms to US official the importance of dialogue in solving political crisis
Baghdad (NINA) – Leader of the Supreme Iraqi Islamic Council (SIIC), Ammar al-Hakeem, stressed the importance of dialogue to solve political crisis.
This came during Hakeem's meeting on Thursday, May 23, with US Embassy Chargé d'Affaires in Baghdad, Doc Solomon.
A statement issued by SIIC Media Bureau, said that in the meeting, Solomon praised Hakeem's initiative and his call for politicians to a meeting that would assure the citizens and be a Honor Pact against terrorism and sectarianism.
source